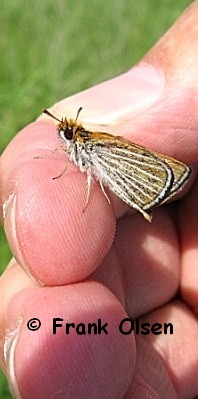 Oarisma poweshiek
is a small prairie obligate butterfly that was originally discovered in Grinnell, Iowa.
It hung around in the northern part of the state on small prairie preserves. There it could be found in fairly good numbers into the 1990s.
It seems to have disappeared from the state now, however.
Click on the butterfly to learn more about its habits, distribution, and efforts to save it from extinction.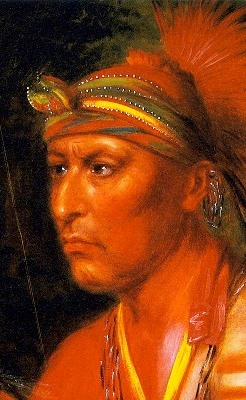 There is a story about this butterfly and also about how Iowa was settled. I call it "The History of the Butterfly."
It is not really one story--think of it as a collection of strings all wound up together. Follow one of the strings along a path either way. Sooner of later it intersects with the path of another story. Follow it long enough and it will get back to us.
Ever wonder how Keokuk, Mahaska, Wapello, and Kishkekosh Counties got their names? What Iowa city was named after George King? Who walked halfway around the world and ate his shoes to survive? And did the poet really discover the butterfly or was it someone else?
Click on the picture of Poweshiek to learn more.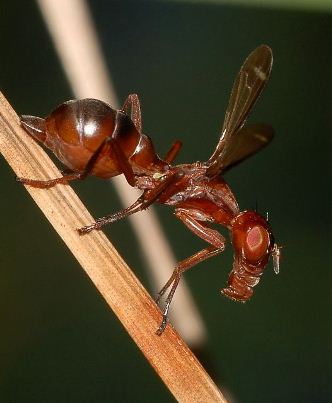 Iowa has a pretty good number of plants, animals, fungi, and other life forms. Some we know a great deal about. Some we don't.
The picture to the left is of a strange little fly,
Myiomyrmica fenestrata
. It was in Doolittle Prairie in Story County, Iowa. With its strange little wings I am not sure it can fly. I watched it for a while and saw it walk, but I could not get it to fly.
To learn more about Iowa's Biological Diversity, click on the picture of the strange little fly.
Butterfly Forecasts for Central Iowa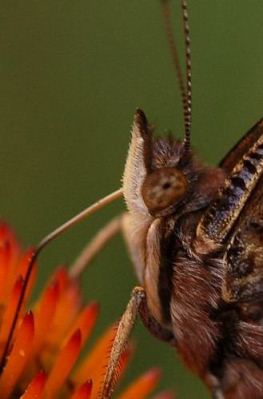 Butterflies have a phenology. The species you will see in early March are not the same you will see in June or in August.
Which butterflies are flying right now? I attempt to predict which ones you will see in Iowa, updated twice a month in the middle of butterfly season.
Click on the face of the red admiral to go to the latest butterfly forecast.