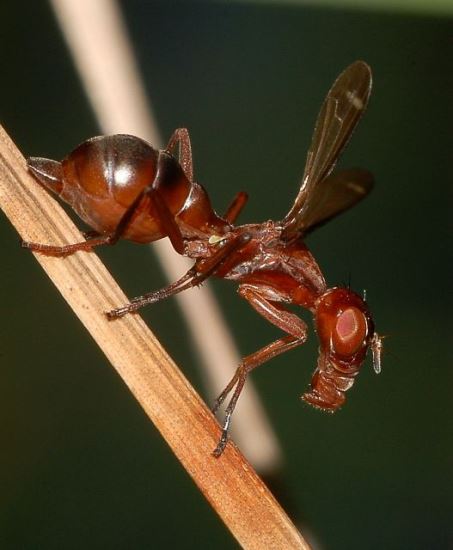 Of all the flies I have photographed, I think this one is my favorite. It is a cool-looking fly, apparently quite rare, and I took the photo at an event that I enjoyed.
Bugguide is a website hosted by Iowa State University, in which photographers submit insect photos. Occasionally the people who get involved with the website host social events called Bugguide gatherings. I took this photograph at a field trip at Doolittle Prairie, north of Ames, during the Bugguide event in 2011.
Initially I thought these flies were ants--they were very small and were walking up and down the vegetation in a manner similar to ants. Closer inspection showed that they were flies. Their wings seem to me to be undersized, and I wondered if the flies were even capable of flight. When I disturbed some of the flies that were walking, they did not fly. Maybe they can fly, but I did not see it.
The lifecycle of this species is unknown. The one shown to the left is a female, and the skinnier ones shown below are presumably male.
This fly was tentatively identified on the bugguide site--so far these photos are the only ones of live specimens.