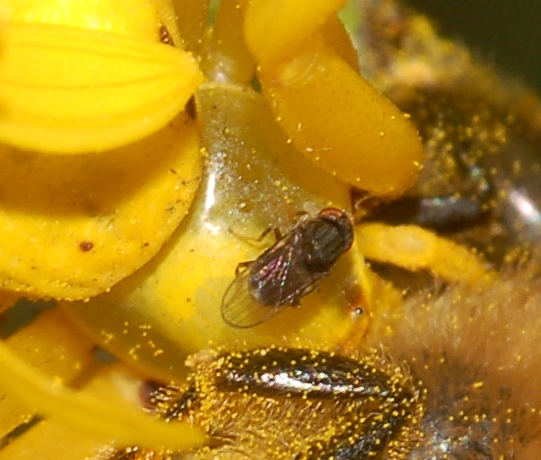 As a photographer who likes to take pictures of insects, I often visit flowers. A lot of interesting insects hang out on flowers.
Sometimes I will see a beautiful butterfly that is just sitting there on a flower--sometimes in an unnatural position. Or it will be a bee or a fly.
In those cases what has happened is sudden death, brought on by a predator. The usual culprits are crab spiders and ambush bugs. On any day in a prairie, if you look for them, you can probably find a dozen or so insects which are in the process of being eaten by one of these two predators.
But if you look closely at them, you might find some tiny flies that are helping themselves to a meal as well. The insects are called kleptoparasites because they are stealing another insect's food.
There seem to be a number of species of flies that do this. One time when I looked and photographed a number of predated insects I found them on about every fourth predated victim. Some I did not see, but noticed only when I examined my photos afterward.
How big are they? The same spider and bee are in the photos below. Can you find the fly?