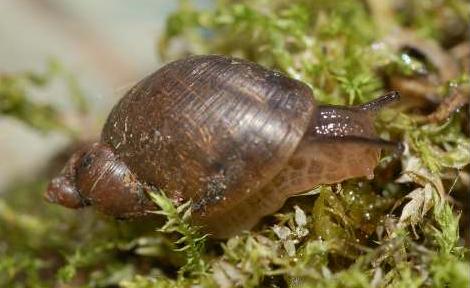 This snail is also known as Succinea avara, Succinea wardiana, and Catinella avara. The original description by Thomas Say of this species (as Succinea vermeta) was apparently of an immature shell of a snail whose adult form he gave the name Succinea avera avera. Since the immature form was named first its name has precedence.

Hubricht shows it to range over most of the Eastern United States, but only shows records for this snail in three counties in Iowa. That probably reflects a lack of collecting data rather than a restriction in range, however.
Keys for the ambersnails can be found in Pilsbry, but they require dissection for some of the identifications, so I am not totally sure of the identification of this snail.

I found these snails to be fairly common in a flooded area near Clear Lake in Cerro Gordo County, Iowa. They were on wet, moss-covered logs in a wetland area--almost an aquatic habitat and almost a terrestrial habitat.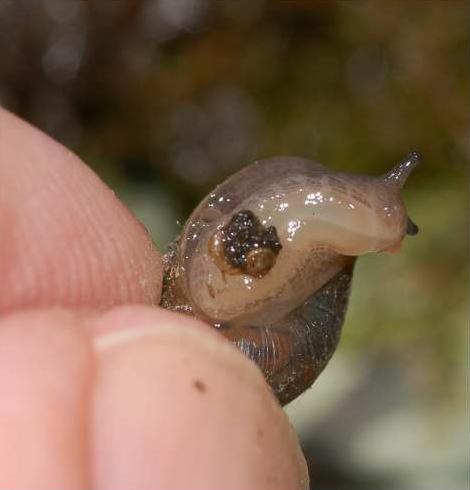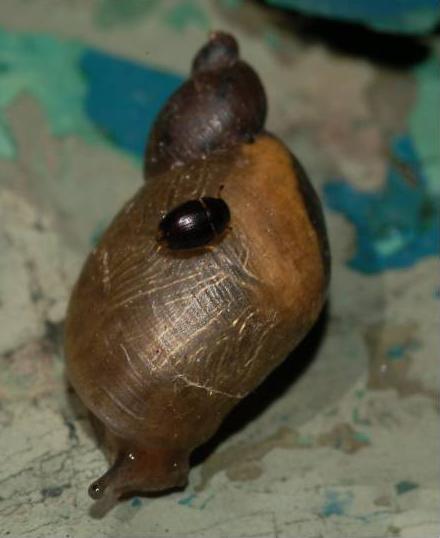 I witnessed a curious interaction this Cercyon (genus) beetle had with this snail. The beetle flew and landed on the shell, then crawled down the shell and under the foot of the snail. When I posted the photos to bugguide, a comment was made that this type of beetle is normally associated with carrion and dung, and the poster knew of no association with snails.

I contacted a snail expert who speculated that it could be a snail slime predator/consumer, but that is pure speculation (although it would be an interesting story). I really don't know what is happening here, but I did think the beetle was somewhat directed in its movements--that it did not end up under the snail by accident.