Poweshiek had a significant impact on the history of Iowa and the Meskwaki people. Beyond that, he was a very interesting person, a case study for how to resist oppression and how to fight for civil rights when the odds are stacked against you.
A famous two volume book was published in 1872 called

History of the Indian Tribes of North America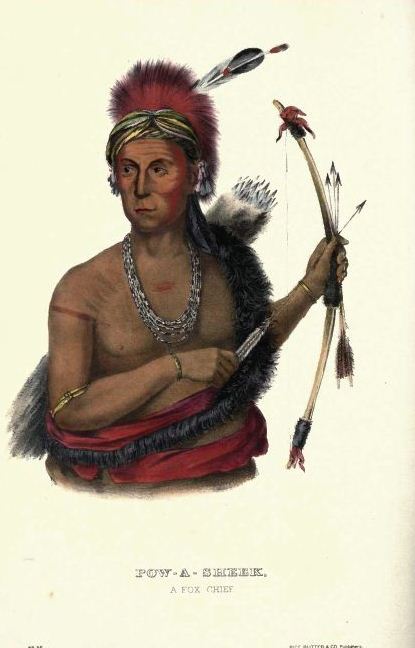 , by McKenny and Hall. Here is what it had to say about Poweshiek (whose name they spelled Pow-a-sheek):

"Powasheek

A Fox Chief

Musquakee To dash the water off

The word Powasheek, in the Musquakee language, signifies "To dash the water off." The individual who bears this name is a celebrated brave of the Musquakee or Fox nation, and is numbered among their chiefs or leading men. A few years ago he was better known to the whites than any other person of his nation, and was probably at that time the most influential man among them. The superior talents of Keokuk have, however, thrown into the shade all the leaders who once stood high in the combined Saukie and Musquakee nation, and Wapella, the Fox leader, being a chief of great address, and a friend of Keokuk, Powasheek has been little heard of, during late years, in public life. He was a daring warrior, and held a respectable standing in council, as a man of prudence and capacity. The likeness is a good one, and gives a correct idea of his character.

Powasheek is one of those men who, though highly respected, and holding a rank among the first men of their nation, are not distinguished by brilliant talents. Nothing very striking in his history has reached us.

"

__________________________________________________________________________

I beg to differ. Although no comprehensive biography of Poweshiek exists, there has been a lot written about him. Writings of Iowa's early settlers frequently contain references to Poweshiek. And while some of it is negative, most people who met him seemed to have very fond memories of him.

Did Poweshiek have brilliant talents? And was the history of Poweshiek striking? Read on, dear reader, read on.

Start with the threads in the table on the left. Follow those, or divert to the table on the right.