In 1804 George King came to the United States from Lincolnshire, England. Events soon found him living on his own. Now George King was a resourceful and reasonably intelligent person, and soon he joined the army. Since his new home had recently been at war with Great Britan, and its leader King George, George King thought it might be reasonable to change his name. That he did. And he picked as his last name "Davenport."
The city of Davenport, Iowa is named after George (formerly King) Davenport.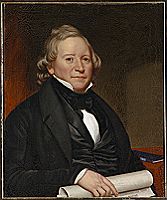 George was a fairly capable fellow, and in about 1815 he got a job hauling supplies from the Saint Louis to Fort Armstrong, which was being constructed where the Rock Island Arsenal is now located. This area had been the site of several very intense battles between the Indians who lived along the Mississippi River, and who were aligned with the British, and soldiers of the United States during the War of 1812.
This part of the War of 1812 is largely ignored in our history books, but the Americans were mostly defeated in the battles for control of the Mississippi, at least along what is now the eastern border of Iowa. At the end of the war, the British abandoned the general area, and the Americans saw an opportunity to establish military outposts along the river. They rapidly built Fort Armstrong and the first Fort Des Moines, which was located where Montrose, Iowa is now.
George Davenport became a trader to the Indians along the river. He lived in one of the Indian villages, and his children played with the children of the Indians. George soon became quite wealthy.
George Davenport was an advocate for the rights of the Indians, and before the Black Hawk War he made some attempts to get the federal government to allow the Sauk tribe remain in Saukenauk. He was unsuccessful, and the treaty signed at the end of the Black Hawk War removed the tribes from the Mississippi for good.
George Davenport continued to live in the area after the tribes were removed, but he was able to offer assistance to some of them at various times, and was present at several of the treaty negotions.
On the Fourth of July in 1845, George was feeling a little ill, so he stayed home while the rest of his family went to celebrations of Independence Day. While they were gone, outlaws broke into the Davenport house, found George there, and tortured him and forced him to open his safe. When they found only $400 inside and expected a lot more, they beat George and left. George Davenport was able to give a description of his robbers before he died later that night. Some of his assaliants were captured later and hung for their crime.
Two funerals were held for George Davenport, one by the Meskwaki, and one officiated by a minister later and open to the white settlers.