There is a both a Wapello County and a small town named Wapello, in Louisa County, Iowa. The sign above is in a small park just outside of Agency, Iowa. The park contains the graves of Wapello and General Joseph Street, who was an Indian Agent, and a friend of Wapello. Also in the park are the graves of a daughter and granddaughter of Joseph Street.
Wapello (often spelled Wapella in early historical records) was a chief of a Meskwaki village near the Sauk village of Saukenauk. Both were east of the Mississippi River. Keokuk, Wapello, Black Hawk, and others relocated on the west side of the Mississippi River in about 1829, as a result of treaties with the United States government.
Black Hawk refused to live by the conditions of the treaties (and he did have legitimate complaints concerning the validity of them), and attempted to re-occupy Saukenauk on a couple of different occasions.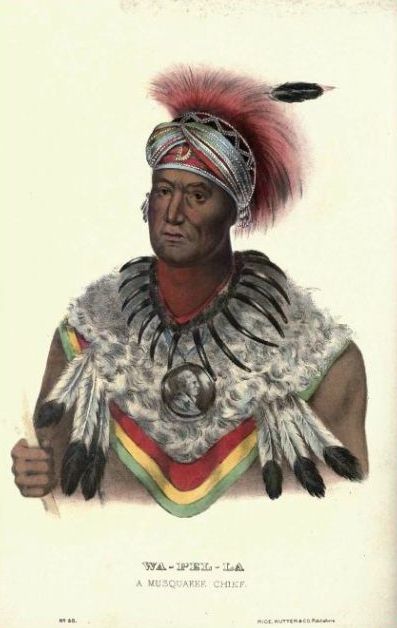 The end result of the final attempt was the Black Hawk War, and the displacement of the Sauk and the Meskwaki from all lands within fifty miles of the Mississippi, except for a small stretch of the Iowa River.
Wapello was one of the "money chiefs," which included Keokuk, Appanose, and Poweshiek. These individuals were elevated in status by the fact that the United States government chose to pay annuities owed to the Indians to them. The money chiefs had power that might not have been given to them by their own people. Nevertheless, they took advantage of that power and became very powerful indeed.
At some point in land cessation negotiations, the Meskwaki tried to separate themselves from the Sauk. The argument was that there was not a "Confederated Sauk and Fox tribe", but two separate tribes. That put Poweshiek and Wapello in one camp, and Keokuk and Appanose in the other.
In 1841 the government tried to buy the land that the two tribes occupied, and to relocate them to what is now Minnesota. Keokuk had apparently already negotiated the deal with John Beach, the Son-in-Law of General Street. (General Street had died in 1840.) Wapello and Poweshiek refused to sign any such deal, so it fell through.
The winter of 1841 and 1842 was recorded as one of the more severe winters in history at the time. A significant number of the Indians died. Early in the spring Wapello died as well, apparently of a heart attack, while he was on a short hunting trip.
Wapello was buried next to his friend General Street.
Without the support of Wapello, and facing the decimation of his tribe by winter hardships and disease, Poweshiek caved in to the pressure in the fall of 1842, and signed a treaty that relocated the Meskwaki to Kansas.