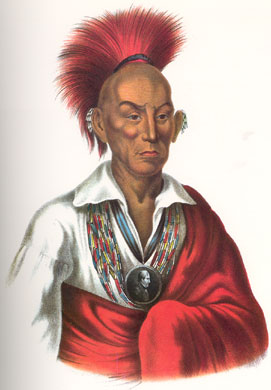 Iowa has a county called Black Hawk. There is a hockey team called the Chicago Black Hawks. There is a type of military helicopter called a Black Hawk. There have been a few Navy vessels named the Black Hawk. In fact, the name is fairly common.
Before they all used his name, there was a Sauk warrior called Makataimeshekiakiak, or Black Sparrow Hawk. He was born and grew up in a village called Saukenuk, which was located where Moline, Illinois is now. He lived a seasonally nomadic life style, residing in the village during the growing season, then dispersing with the rest of his people to winter hunting camps in what is now Illinois, Iowa, and Missouri. He became war chief of the Sauk. The title of "War Chief" might be a little misleading--although he did lead his people in war, the primary duties of the war chief were to coordinate the logistics of the moves from the winter camps to the summer occupation of the village and back to the winter camps.
In 1832 there was an event that became known as "The Black Hawk War." Black Hawk has been celebrated by history as a great military leader. He was a brave and talented fighter, that much is true. But the event that was named after him was a gross miscalculation on the part of Black Hawk. He never intended to become involved in a war. It was an attempt to re-occupy the village of Saukenuk so that his group, which was composed mostly of women and children rather than warriors, could plant corn and the other crops that kept them from starving.
Black Hawk was defeated and captured, and the major portion of people who were with him were killed or died of starvation or disease during the struggle.
So who was Black Hawk? Fortunately, we do know a lot about him, and some of it is from his own accounts. After the Black Hawk War of 1832, Black Hawk was kept as a prisoner for several months. But he was an unusual prisoner, and kept in an unusual situation. American authorities, including President Andrew Jackson wanted to impress upon Black Hawk that the United States was a powerful nation, and that waging war against it was futile. So Black Hawk was kept as a prisoner, but he was also taken through several eastern cities at the same time--toward the end of his imprisonment he was treated more as a guest than a prisoner. In 1833, a publisher by the name of John B. Patterson collaborated with the government interpreter Antione LeClaire and with Black Hawk himself to publish an account of his life. The Autobiography of Black Hawk is available now in various forms, including
electronically
and as a printed
book
. It is worth the read.
The threads in this section contain information about the Black Hawk, and include some selections from his Autobiography.