One of the provisions of the treaty of 1804 was for the United States Government to build a "factory," or a trading post, at a location controlled by the Sauk and Fox.
The United States Army selected land for the purpose, and built it on the Mississippi. The new factory was called fort Belleview, but the name was later changed to fort Madison.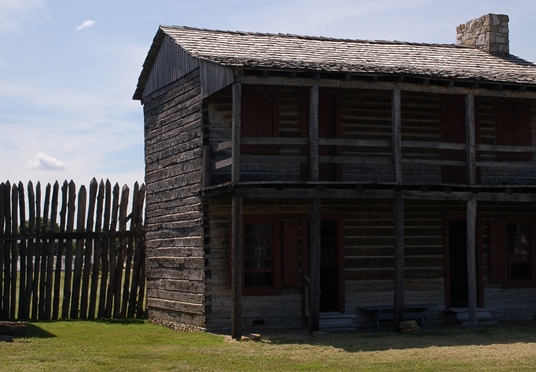 There was opposition to the site by some of the Native Americans. Black Hawk observed that the soldiers building the fort always took their weapons with them, and did not act like they were in friendly territory. He also thought the whole structure looked more like a military structure than a trading post.
A group of Sauk attacked the fort in 1809, but did not take it.
When the War of 1812 broke out, the Mississippi River became the western frontier of the war. Native American groups opposed to the excesses of treaties like the one of 1804 allied with Great Brittan to fight the Americans.
Fort Madison was attacked
again in July of 1813. After an extended siege, the Americans abandoned and burned the fort, and escaped under cover of darkness. Black Hawk claimed to have taken part in the attack.
Other battles occurred on islands in the Mississippi River, just east of where Davenport, Iowa is now.
The
Battle of Campbell's Island
was an attack on a supply ship, sent to reinforce Fort Shelby in Prairie du Chien. Black Hawk and his warriors successfully captured one of three boats--the battle happened on July 19th, 1814.
The
Battle of Credit Island
occured on September 4th and 5th, 1814. Major (and future president) Zachery Taylor was sent from St. Louis upriver to relieve and evacuate Prairie du Chein. He had a force of 350 troups with him, spread out in 8 keel boats. When Major Taylor camped out on Credit Island for the night, the Indians, including Black Hawk, attacked and killed some of the troups. With the help of British cannon, Major Taylor and the Americans were forced back down the river.
Much of the conflict for the War of 1812 was about land succession treaties between the United States and Native American tribes. Some of that land was won back, especially on the western frontier by the natives, allied with the British. However, at the end of the war, Great Brittan and the United States signed the Treaty of Ghent. Great Brittan agreed to honor land boundaries that existed prior to the war, undercutting any gains made by the natives. After the war, the United States quickly established factories and forts in the Indian territories.